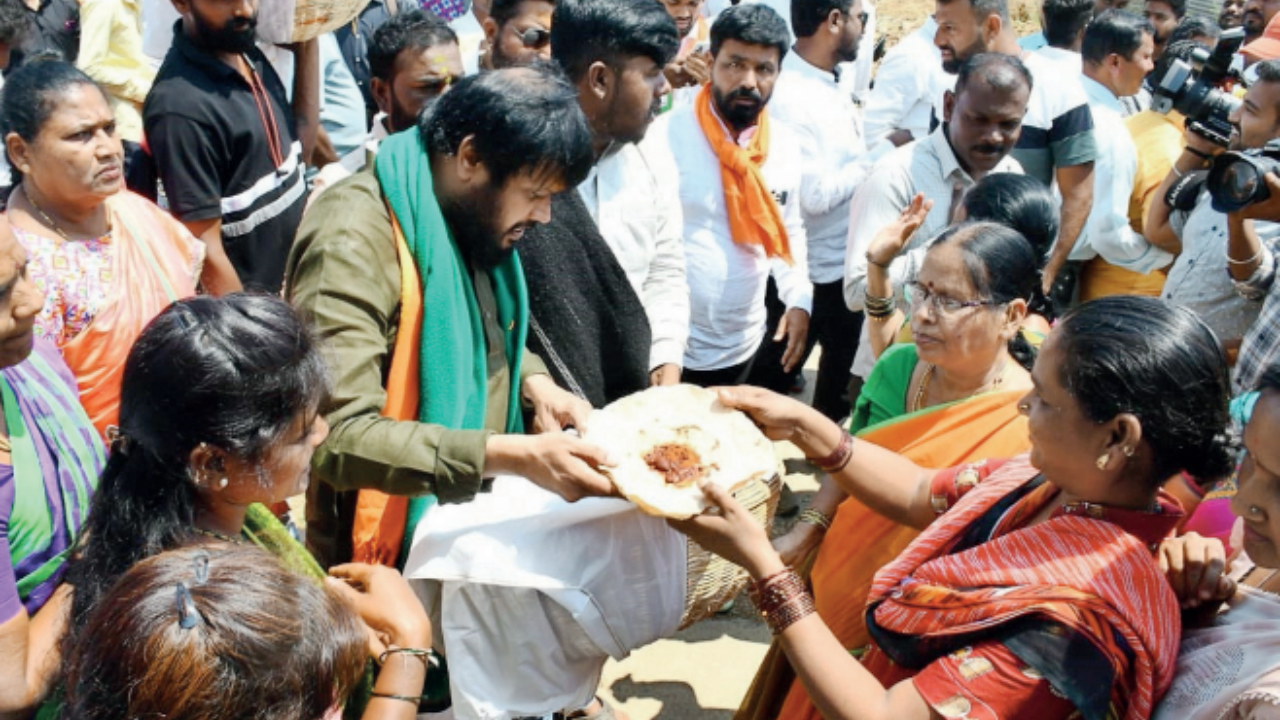 HUBBALLI: With the
Election Commission India (ECI) keeping a hawk's eye
out for violations of the model code of conduct, distributing freebies, liquor, and cash on the eve of voting day has become difficult for candidates. But
many prospective candidates have remained a step ahead
.
To ensure they don't fall afoul of the model code of conduct, which will kick in immediately elections are announced — likely in the last week of March — several sitting MLAs seeking re-election and aspiring candidates have already distributed goodies, two months ahead of elections! It is estimated that politicians spend anywhere between Rs 5 crore and Rs 30 crore per constituency, with each seat having under two lakh voters.
And, while liquor, saris, pressure cookers and television sets are still crowd-pleasers, candidates have moved on with the times. Novelty appears to be the watchword as some candidates are said to have even paid life insurance premiums for voters.
Nagaraj Gouri, Congress ticket aspirant from Hubballi Dharwad West seat, is collaborating with a local coaching centre to provide free coaching for graduates attempting IAS/ KAS/PSI exams. He is also offering tailoring training for women from economically weaker sections.
"Coaching for two batches of students is over and the third batch is in on," Gouri said. "Also, some 2,000 women have been trained in tailoring and we have distributed 600 sewing machines to select women in my constituency." Deepak Chinchore, another Congress aspirant from Hubballi-Dharwad West, said he is providing self-employment training for women through his Aneesh Foundation.
"Stree Shakti is our main strength. We have so far trained 20,000 women. After completing each batch, I send 200-300 women on a tourist trip." Chinchore said with help from donors he also sponsors three-or-four-day tours to religious and tourist destinations like Badami Banashankari, Dharmasthala, Pattadkallu, Danamma Devi temple and other places for voters.
"So far, I have helped sponsor some 20,000 people on these trips." Rajat Ulagaddimath of Congress said he has distributed 60,000 notebooks among government school students in Hubballi-Dharwad Central constituency where he is seeking nomination. The most common freebies include dinner sets, pressure cookers, digital clocks, gold rings, and saris, while LED television sets are seen as "deal-clinchers".
Some host lavish lunches or dinners at local religious events. On Shivaratri (February 18) for example, voters in Chickpet, Bengaluru, were showered with goodies. "We received rice, dal, oil and several other household items from various likely candidates," said Parshuram, a mason.
He said this has been standard practice in his area in every election. Kavitha (name changed), a resident of Hebbal, Bengaluru, had to just flash her voter ID card to get six household items, including an induction stove and a rice cooker, from different aspirants. "We were told that these were given as gifts to each household," she said.
Only moneybags considered
Vishwas Shetty, political commentator, said parties now mostly consider those who have money to provide freebies as potential candidates. "This has resulted in several real estate dealers, mining barons, and contractors entering politics. They have no knowledge of the party structure or how elections work," Shetty said.
A former minister said that in the past, some voters would refuse cash. "Now, people do not vote unless they receive money and freebies from local candidates," the functionary said. He believes the trend changed after the 2008 assembly elections.
Other politicians agree and say spending has doubled. But some politicians argue that inducements are not everything. "Money no doubt plays an important role, but people will continue to vote for the candidate they deem best," a senior Congress party member said.
For more information call us at 9891563359.
We are a group of best insurance advisors in Delhi. We are experts in LIC and have received number of awards.
If you are near Delhi or Rohini or Pitampura Contact Us Here