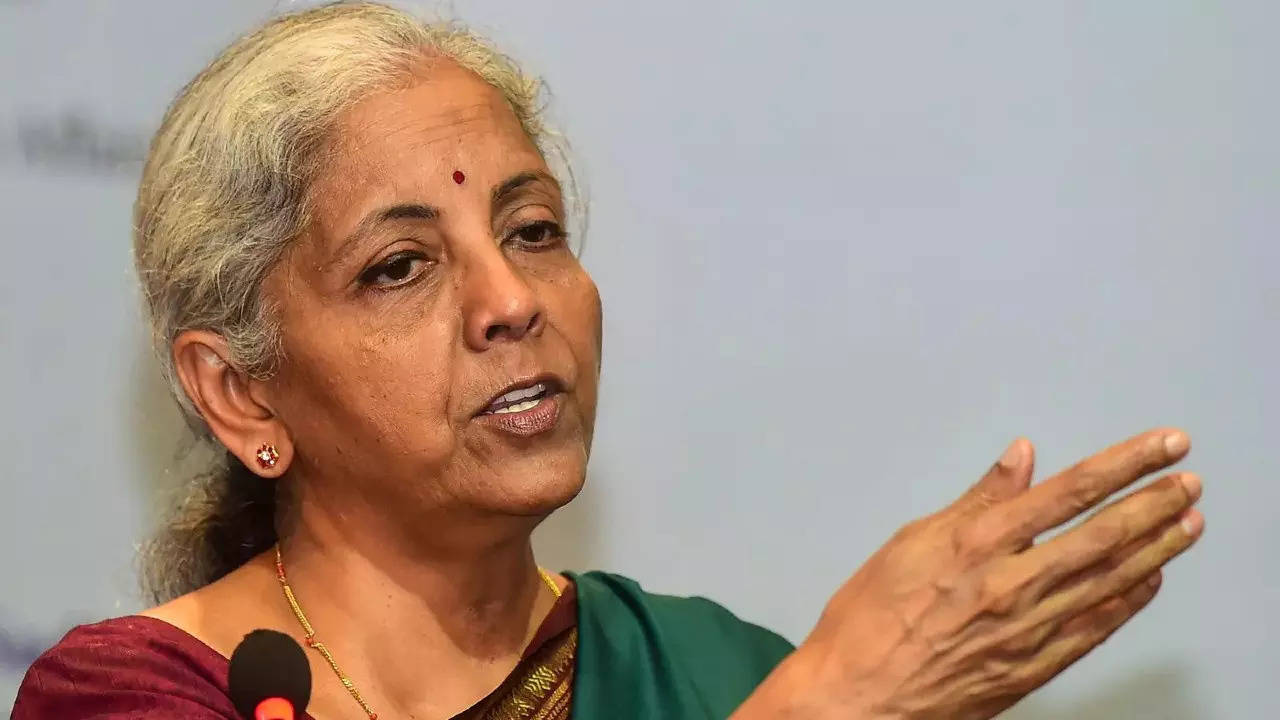 NEW DELHI: Finance minister Nirmala Sitharaman on Friday said she did not expect the ongoing controversy around
Adani Group
to affect investor confidence as India's banking system is sound and the financial markets are "well regulated".
Shares of Adani Group companies have nosedived in the last 7 sessions, after an adverse report by Hindnenburg Reaearch which alleged accounting manipulations by the group.
The Group has now lost over $120 billion in last 7 trading sessions, erasing over 50% of its valuation.
Speaking to a news channel, Sitharaman said that the State Bank of India (SBI) and Life Insurance Corporation (LIC) of India have already explained that they are not overexposed to Adan Group stocks.
"They have very clearly said that their exposure (to Adani Group stocks) is very well within the permitted limits and with valuation falling as well, they are still over profit. That is the word from the horse's mouth," Sitharaman said.
She also highlighted that India remains "an absolutely well governed" country and a "very well regulated financial market."
"One instance, however much talked about globally, I would think is not going to be indicative of how well Indian financial markets have been governed," Sitharaman said.
Later, State Bank of India's (SBI) chairman Dinesh Khara also said its overall exposure to the Adani Group is at 0.88% of the book or around Rs 27,000 crore and stressed that SBI has not given any loans against shares to the group.
Lending to Adani Group projects is with regard to ones having tangible assets and adequate cash flows, Khara said, adding that the group has an excellent repayment record.
He also said there has not been any refinance request, which has come from the Adani group.
Meanwhile, public sector lender Bank of Baroda has reduced exposure to the Group over the last 2 years, and has no concerns on asset quality issues with the conglomerate.
Earlier in the day, finance secretary TV Somanathan said there was no cause for concern for depositors, policy holders or investors in any nationalised bank or insurance company due to their exposures in Adani group companies.
Adani Group stocks have remained under pressure since January 24, after US short-seller Hindenburg Research published a report alleging stock manipulation by the Adani Group and raised concerns about high debt and valuations.
The report emphasised that key listed Adani companies have taken on substantial debt, including pledging shares of their inflated stocks for loans, putting the entire group on precarious financial footing.
In its response, Adani Group issued a statement on January 29 and likened the damning allegations to a "calculated attack" on India, its institutions and growth story.
Meanwhile, a report by rating agency Moody's said the adverse developments around Adani were likely to reduce its ability to raise capital to "fund committed capex or refinance maturing debt" over the next one to two years.
However, it said a portion of Adani's capital expenditure was deferrable, and its rated entities did not have significant maturing debt until fiscal year 2025.
For more information call us at 9891563359.
We are a group of best insurance advisors in Delhi. We are experts in LIC and have received number of awards.
If you are near Delhi or Rohini or Pitampura Contact Us Here